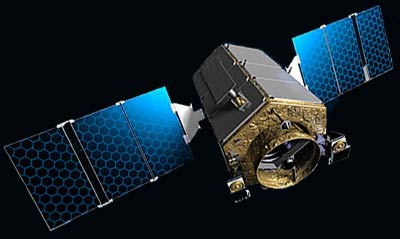 The KOMPSAT-2 system allows the acquisition of PAN images at spatial resolution of 1 meter and MS images of 4 meters from space. The mission objectives of the KOMPSAT-2 System are to provide the following capabilities in the field of earth observation. The KOMPSAT-2 system provides :
Surveillance of large scale disasters and their countermeasures.
Acquisition of independent high resolution images for GIS.
Composition of printed maps and digitized image maps on domestic and overseas territories to users. Images of the KOMPSAT-2 system may be used for balanced development of world territories and survey of natural resources. Also, KOMPSAT-2 will continue to support satellite earth observation activities that have been served by the KOMPSAT-1 system.
The Second Korea Multi-Purpose Satellite (KOMPSAT-2) System consists of Space Segment and Ground Segment. The KOMPSAT-2 Space Segment consists of a single KOMPSAT-2 satellite flying on a sun-synchronous low earth orbit and the MSC as a primary payload. The KGS consists of the KARI site where is located in Daejeon. The KARI site is comprised of the primary Mission and Control Element and the Image data Reception and Processing Element. In order to satisfy the overall missions of the KOMPSAT-2 system the KARI site provides the capability to monitor and control the KOMPSAT-2 satellite, to conduct KOMPSAT-2 mission planning, and to receive, process, and distribute image data.
The Mission orbit of the KOMPSAT-2 is a sun-synchronous circular orbit with an altitude of 685.13 km. The Orbit inclination is 98.127 degrees and the eccentricity from 0. The satellite operates with a nominal local time of ascending nodes of 10:50 AM +10/-15 min. Figure 1 shows ascending passes (solid lines) of the KOMPSAT-2 for 28 day and a boundary of contact (circle) between the KOMSPAT-2 and the KARI site based on the minimum elevation for contact of 5 degrees. The satellite passes Korean region during the day along ascending orbits and during the night along descending orbits. The KOMPSAT-2 satellite is designed for an operational service life of 3 years on the mission orbit.
The KOMPSAT-2 will allow the generation of high resolution images with a GSD of better than 1 m for PAN data and 4 m for MS data with nadir viewing condition at the nominal altitude of 685 km. The MSC has a single PAN spectral band between 500 - 900 nm and 4 MS spectral bands between 450-900 nm. PAN imaging and MS imaging can be operated simultaneously during mission operations. The swath width is greater than or equal to 15 km at the mission altitude for PAN data and MS data. The system is equipped with a solid state recorder to record images not less than 1,000km long at the end of life. The satellite can be rolled up to ▒30 degrees off-nadir to pre-position the MSC swath. The KOMPSAT-2 can provide across-track stereo images by multiple passes of the satellite using off-nadir pointing capability. The satellite is compatible with daily revisit operation by off-nadir pointing with degraded GSD. Also, the image products according to the requested products quality standard can be made within one (1) day after satellite passes over the KGS.
South Korea ľ KARI
Launch: 2006
Mass : ~ 800 kg, Power: ~ 900 W
Altitude: 685 km
Off track viewing up to 30 degrees
Revisit: Up to 3 days
Equator Crossing: 10:50 A.M. local time;áAscending.
Payload: Optical camera

KOMPSAT-2 acquires imagery in black and white (Pan) at a resolution of 1 m and in color (MS) across 4 bands in the visible (red, green, blue) and near-infrared at a resolution of 4 m. Simultaneous acquisition of Pan and MS images means that merged 1-m images are available as a standard product. KOMPSAT-2 images cover a footprint of 15 km x 15 km.


Panchromatic (1m Pan)

Multispectral (4m MS)

Bundle (1m Pan & 4m MS separated)

Pan-sharpened (1m colour in 4 bands: R,G,B,NIR)
Products

B&W : 1 m
Colour (4 bands) : 1 m
Multispectral (R, V, B, PIR) : 4 m
Bundle ( Pan and MS separated images)

Spectral Bands:

Pan : 0,50 - 0,90 Ám

Locate, identify and measure surface features and objects primarily by their physical appearance

MS1 (blue) : 0,45 - 0,52 Ám

Mapping shallow water, differentiating soil from vegetation

MS2 (green) : 0,52 - 0,60 Ám

Differentiating vegetation by health

MS3 (red) : 0,63 - 0,69 Ám

Differentiating vegetation by species

MS4 (near-infrared) : 0,76 - 0,90 Ám

Mapping vegetation, mapping vegetation vigor/health, Differentiating vegetation by species

Footprint

15 x 15 km

Revisit rate / Viewing angle

Orbital period of 28 days
Revisit rate of 3 days with roll angle of 30░

Satellite tasking

yes
Panchromatic and multispectral images can be acquired at the same time

Dynamic range

acquisition 10 bits/pixel, delivery 16 bits/pixel

Preprocessing

1A, 2A and ortho
KOMPSAT-2's coverage and resolution offer a more effective solution to all your detailed mapping needs, at scales of 1:5 000 to 1:2 000.


KOMPSAT-2 's very high spatial resolution is a key reconnaissance asset. Ideally suited to strategic and operational intelligence gathering, it supports identification and characterization of sensitive sites and reconnaissance and identification of civil and military systems.

In this 1-m image, we can identify a container ship.
container ship (c) KARI - Distribution Spot Image
Satellite

Resolution

Standard map scale

Level of analysis

KOMPSAT-2

1 m

Up to 1:2 000

Detailed maps, technical and strategic reports
Detection
Vehicles, artillery, storage facilities
Rough identification
Vehicles, NBC weapons components, radar and radio communication equipment, missile launch sites,
Precise identification
Ground troops, aircraft, roads, C4SIR centres, minefields
Description
Submarines, bridges, ports and port zones, railway zones, urban zones